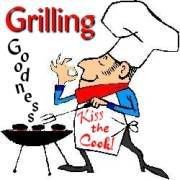 I came across this Grilling Goodness meme a few weeks ago and thought I would play along this week. If you would like to play along too, go to Golden Goodness and link up so others can read your answers. While you're there, check out her blog!
1. What pain reliever do you swear by?
Excedrin Migraine! It really helps to relieve my unbearable headaches.

2. Have you gotten up-to-date with a flat screen HDTV?
No, not yet.

3. Have you honked at anyone lately?
No. I'm not a honking type person. I perfer to yell at other drivers like a crazy maniac and pretend that they hear every word I say.

4. What is your favorite household product?
My vacuum. Yes, it really is! I can use it on both the carpet and the regular floor and I love it!
 
5. What is the earliest you've gotten up this week and why?
The earliest I got up this week was about 4 in the morning. It was because I went to bed a little earlier than usual.
 
6. Do you travel out of town for Christmas?
Not usually. I have in the past, but I don't make it a tradition.

7. Have you been listening to Christmas music? (Favorite?)
Not this year. But, when I do, my favorite is Silent Night.
 
8. When do you exchange gifts with family?
On Christmas morning.