I finally talked to my dad the other day! I had to go see him in person since he waited so long to put the phone back on the hook. He tells me he'll have the money to me on Friday. I've taken a few suggestions of what to do with this little bit of extra cash into consideration and I think I've narrowed to two options.
I really did like the book ideal, but then Double A's retiring teacher gave Double A a whole load of books. So much so that they will keep him and Princess T busy for a while, so I've decided not to go with the book idea after all!
Mother Goose suggested that I host a give away for it on here and nominated herself as the winner! Ha! Nice try, but no. Maybe next time though!
Anyway, I am still stuck on the puzzle idea. I LOVE, love, love solving puzzles! I enjoy it so much that I have this small problem sharing the puzzle I am solving! Seriously, I do! If anyone so much as puts a piece of the puzzle in its place, I am done with it and will walk away from it, not touching it again. I know it makes me look like an ass admitting it, but it seems that I can't help myself! Did I mention that I love puzzles?
I realize I really need to stop having this problem when it comes to sharing the enjoyment of solving puzzles and  I am considering using this money to buy a few new puzzles and allowing Double A and Princess T help me with all of them.
The second option that I am still weighing is purchasing a blog makeover for my blog. I know my readers like it, but I like changing things up a bit after a while. You know, to stay on my toes!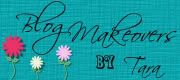 Tara does great blog makeovers! Right now she is having a grand opening sale and she is offering 50% off of any blog makeover orders that are made before Feb. 1st! Go here to check out some of the designs and kits she can use to makeover blogs! Getting a blog makeover for about $13 is a great deal!
Heck, at that kind of price, I might even decide to get both options with the extra money I won! I'm still debating that! Stay tuned to find out what I've decided to do!